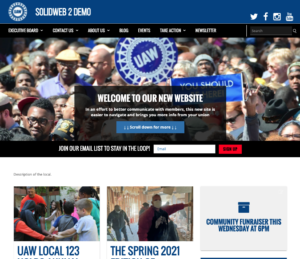 SolidWeb 2.0 (the UAW brand name for AFL-CIO UnionHall) is a powerful, free website-building tool that was developed as a part of the AFL-CIO's UnionHall program.
This new website tool for locals is replacing SolidWeb 1.0. UAW regions and locals have access to free, templated websites through SolidWeb 2.0. The AFL-CIO and the UAW offers ongoing training at aflcio.org/training and support. The tool allows parent sites to syndicate content to local sites to keep them up to date.
Powerful software: SolidWeb 2.0 was developed in Drupal, an open-source platform used all across the web.
Customize your site: Choose among a plethora of content layout options and make the site unique to your local and bring the best experience to members.
Responsive: No matter the device, your local's website will fit the screen beautifully.
Content Syndication: Always have fresh content and share it easily.
Support: Free training, tutorials list services and more.
No Cost: SolidWeb 2.0 is a FREE program for all local unions— the full cost is covered by the International Union, UAW.
Flexibility: SolidWeb has been developed to fit the needs of local unions. Constant development and refining based on feedback from users means the program is set up to grow and offer new features.
Already on the original SolidWeb, but are ready to migrate to SolidWeb 2.0? Email us here and we'll get you transferred over to your new, free website. It's already set up and ready!